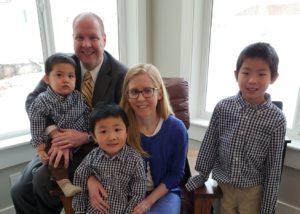 Relationship and mental health expert, Dr. Jonathan Swinton, is an Extension Assistant Professor for Utah State University Extension in Sevier County specializing in helping the community with family relationships, mental health, suicide prevention, and addictions. He has a masters degree and a PhD in marriage and family therapy. He is a Licensed Marriage and Family Therapist and Certified Medical Family Therapist.
Prior to his appointment with Utah State University, Dr. Swinton founded and owned a network of counseling clinics which provided expert relationship counseling services in Utah. He has been widely published and has been featured on television and radio stations. Dr. Swinton was sent across the country training large groups of counselors on the keys to counseling couples. He taught for the Department of Family Studies and Human Services at Kansas State University and was awarded the Human Ecology Alumni Entrepreneur Award from Kansas State University. He has served on a variety of advisory boards, most recently on the Kansas State University Human Ecology Alumni Advisory Board, the Waterford School Alumni Council, and the Salt Lake City LDS Family Services Advisory Board.
He and his wife have three sons. He enjoys spending time with his family, photography, fishing, Hallmark movies, playing the guitar, and playing with his dog.
Dr. Swinton has been featured by the following media outlets:
Richfield Reaper
KSVC
Deseret News
Salt Lake Tribune
LDS Living Magazine
KSL 5
KSL Newsradio
Utah Public Radio
KUTV 2
KUER
ABC 4
FOX 13
Telemundo
DigitalRomance.com
The Journal of Marital & Family Therapy
Families, Systems, & Health
Journal of Extension