Address: 319 Seward Street, Suite 6, Juneau, AK 99801 (for all appointments through June 30, 2021)
Phone (call or text): (907) 209-5160
Email: drs@drswinton.com
---
**NEW OFFICE**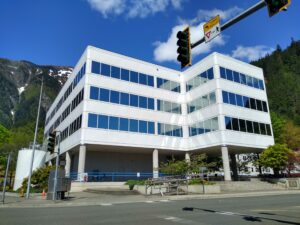 Beginning JULY 1, 2021, Dr. Swinton's new office will be located at:
One Sealaska Plaza, Suite 303, Juneau, AK 99801
New Office Parking:
Dr. Swinton's new office has a cash/coin ($0.75 per hour) surface parking lot right across the street (P2 in the map below). Dr. Swinton will keep $1 coins in his office so you can keep a coin in your car to pay for parking at your next appointment. Free parking is also available on the street.
---